Highest Paying Jobs in India
Highest Paying Jobs in India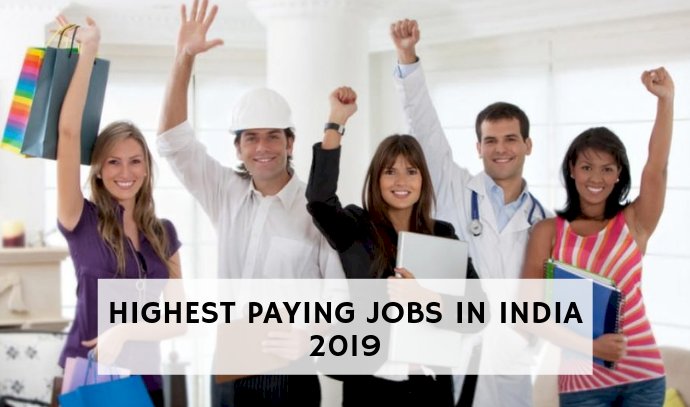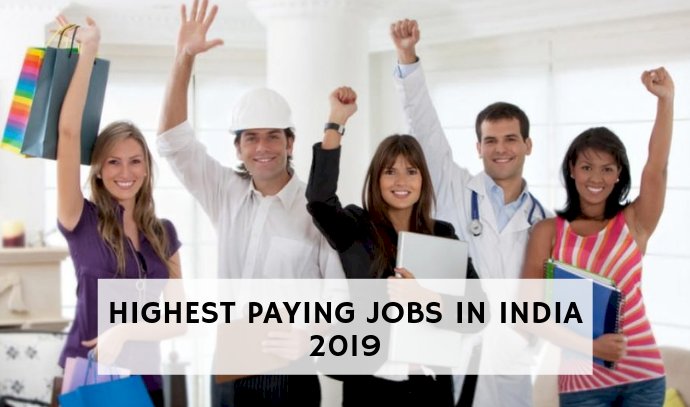 There are three ways one can get attached to a job. At first, to earn money. Secondly, to fulfill ones passion. And third a combination of the first and second. Excitingly, you have some highest paying jobs in India 2019 that can feed your passion and also pay for the productivity that you yield.
In this article, you will get to know the list of high demand and high paying jobs available in India for the year 2019.
Highest Paid Jobs with Good Salary Packages
Let me quickly skim you through the list of good jobs that give you great fortune in the year 2019 and beyond.
App Developer
With the surge in the use of smartphones many have started engaging actively through apps. Android and iOS are the kingmakers in enabling application developers to build productive apps.
Therefore, you can learn android app development and iOS app development to get the highest paying jobs in India.
As an entry level android developer you will earn Rs. 3 lakhs per year. After an experience of 2-5 years you will earn Rs. 4-5 lakh per month.
Investment Bankers, among the highest paying jobs in India 2019
The investment banker career path mainly has five levels of gradual growth as follows,
Analyst– INR 5 to 9 lakhs per annum (pa)
Associate– INR 7 to 13 lakhs pa
Vice President– INR 10 to 40 lakhs pa
Your popular employers will be,
Goldman Sachs
JP Morgan Chase
Deutsche Bank
Globeop Financial Services Ltd
HSBC
Software Engineers
This is another field among the highest paying jobs in India 2019.
As software engineers your services will be required in the field of education, robotics, e-commerce etc. Your job roles and salary will be,
Trainee Software Engineer– INR 1.5 to 2.5 lakhs pa
Senior Software Engineer– INR 4.5 to 10 lakhs pa
Project Lead– INR 6 to 13 lakhs pa
Program Manager– INR 8 to 19 lakhs pa.
Business Analysts, among the highest paying jobs in India 2019
As a business analyst, your service to the organization will be to analyze the competition in the market. The entry-level salary will be INR 6,00,000 per annum.
One other division in this job role is the role of business intelligence (BI). You can learn a course in BI,
To have a thorough understanding of your customers
Drive performance and revenue
To identify sales trends
To provide personalized service and
Improve operational efficiency
Government Jobs, credibly among the highest paying jobs in India 2019
Some of the high paying government jobs are,
Indian Foreign Services (IFS)
Your benefits are,
A starting salary of INR USD 4000 – 5500
Official luxury cars
Free education for children in international school
Indian Administrative Service (IAS) and Indian Police Service (IPS)
Your entry level pay is INR 50,000 along with DA
A posh house
You will get study leaves for higher education in foreign universities at government sponsorship.
Defense Services
Your entry level salary at the rank of Lieutenant is INR 50,000 – 60,000 +DA
Scientists/Engineers in ISRO/DRDO
You basic salary at entry level is INR 55,000 – 60,000.
Indian Forest Services (IFS)
You will be expected to work in the field of forestry and wildlife. It is a typical bliss away from city life. Your entry level salary in INR 52,000+DA.
Data Scientist/Data Analyst
As a data scientist, you will identify patterns and develop tools that would make sense out of massive sets of data. You will earn an average salary of INR 620,244 per year. Therefore you have a bright scope if you pursue a special course in Data Science.
Your profile as a data scientist will be of high demand in industries that incorporate artificial intelligence (AI), machine learning (ML) and big data driven tools. Your average pay will be INR 369,329 per year. Therefore, this field is among the highest paying jobs in India 2019.
Database Architects
As a database architect, you will design, create, and deploy structures in the realm of IT. You can learn a short term course in DBA to get challenging responsibilities in companies and also attractive salaries ranging from INR 1.5 lakhs and 3 lakhs per annum.
Marketing Professionals have great scope among the highest paying jobs in India 2019
Digital marketing is a booming industry and is the new industry norm. There are many roles in the marketing field. You can do a course in digital marketing to learn strategies to promote your business and increase your revenue.
Common roles in the field of marketing are,
SEO Experts– Entry level salary is INR 1.8 to 4 lakhs pa and with experience, it peaks to 30 lakhs per annum.
Digital Marketer– Your average pay will be INR 481,652 pa
Social Media Manager– Your monthly salary will range from INR 30,000 to 4 lakhs per month.
Digital Marketing Expert– Your yearly pay starts from INR 308,222 per annum.
Chartered Accountants
As a chartered accountant, you will cover areas such as financial accounting, tax management, auditing, cost accounting, banking, consultancy, etc.
As a fresher, you will get a salary of INR 5-7 lakhs per annum. With experience, your salary increases to 20-24 lakhs pa. Therefore, this job role is among the highest paying jobs in India 2019.
Python Developer, among the highest paying jobs in India 2019
Python is the most wanted technology of 2019. You can learn Python course to get an average salary of 9,00,000 pa. Moreover, Python has become the most popular programming language.
Big Data Engineer
As a big data engineer, you will transform huge amounts of data into useful information for the prosperity of your business. Many opt to learn big data to get lucrative jobs and salaries. Your median salary will be 8.5 lakhs pa.
DevOps Engineer
As a DevOps engineer you practice faster code deployment to help companies oversee process development, coding and scripting. You also manage provision resources, IT infrastructure and oversee software testing.
Your average pay will be INR 629,420 per year. Therefore, this is another job role which is among the highest paying jobs in India 2019.
AWS Certification Holders
Amazon Web Services (AWS) has gained popularity within a short span of time. You get job roles like solutions architect and SysOps Administrator. You get average pay of INR 686,144 pa.
Business Owners
You can be a business owner of any kind. No doubt you will get a good ROI and a handsome salary.
With many startups, entrepreneurs coming up they envisage modern business strategies to help their business thrive and also pay their employees well.
Many business owners also play the role of founders/presidents/CEO of their companies. As the CEO of your own company, you will draw an average salary of INR 2,923,194 per annum.
Conclusion
The above-mentioned job roles are aspiring, challenging and will make you a rich person. Aim for the stars and get a lucrative job this 2019 to stand out from the crowd